Ceilings may not be at the top of your customer's mind when they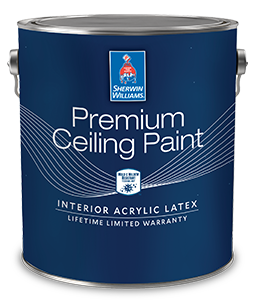 hire you to paint their home or commercial property. But as a professional painting contractor, you know that they're an important component of any paint job.
Pros also know that due to the different needs of painting these "fifth walls," they'll get the best results by using a coating specifically formulated for ceiling application.
You can be assured that you'll meet the highest expectations and maximize your productivity thanks to the ultra-bright, high-performance finish and one-coat coverage of Premium Ceiling Paint from Sherwin-Williams.

Here are four key ways you'll benefit from choosing Premium Ceiling Paint:
1. Brighten up any room with our brightest and whitest ceiling paint ever
Give any room a fresh look with Sherwin-Williams brightest, whitest ceiling paint yet with high light reflectance and an ultra-flat sheen that makes minor surface imperfections virtually disappear.
2. Faster, more productive work with one-coat coverage
Designed to offer one-coat coverage with self-priming properties reducing overall time spent on your project.
3. Virtually effortless application
It's fast and easy to achieve a high-quality finish thanks to excellent hide and reduced spatter.
4. Eliminates lap marks
The non-lapping formula blends seamlessly for an exceptionally uniform finish, reducing the worry of lap marks during application.
This article was published in the Summer 2023 issue of PPC magazine. ©2023 Randall Reilly. Get more information about products that will help you increase your productivity and efficiency in the PPC magazine archive.