New product coming to Sherwin-Williams stores in June: Gallery Series™ Waterborne Topcoat is a new hard-wearing, professional-grade coating that will help you achieve a flawless-looking, factory-like finish on cabinets, trim and millwork.

The Gallery Series technology delivers consistent results across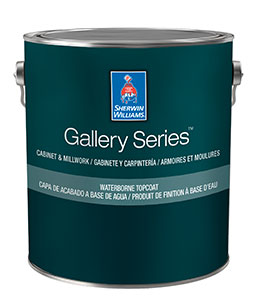 environments to extend your painting day and provide faster job turnaround.
With performance characteristics parallel to some of its solvent-borne counterparts, Gallery Series Waterborne Topcoat has superior chemical and moisture resistance as well as excellent blocking resistance.
This premium waterborne coating technology is ideal for use on kitchen cabinets, wood and composite building products allowing professional finishers to achieve two-component performance with a one-component system.
Four key benefits for the paint pro:
1. Fast dry times enhance productivity
Gallery Series dries to the touch in 30 minutes and can be sanded or recoated in as little as 45 minutes.
2. Super hard, durable finish
Excellent hardness and chemical resistance compared to traditional architectural finishes. Meets Kitchen Cabinet Manufacturers Association® (KCMA) requirements when properly applied.
3. Designed for on-site application
Formulated exclusively for professional spray application, Gallery Series gives contractors a high-grade coating with excellent flow and leveling.
4. 1K formula with 2K performance
The self-sealing, single-component formula offers the convenience of no on-site mixing with the performance of a two-part enamel coating.
This article was published in the Summer 2023 issue of PPC magazine. ©2023 Randall Reilly. Get more information about products that will help you increase your productivity and efficiency in the PPC magazine archive.