Want to know exactly what your sprayers are doing, where they're working and how they're performing?
Introducing Graco BlueLink, a new innovation that delivers real-time jobsite and sprayer information directly to your mobile device, whether you're at the office, home, elsewhere on a jobsite or anywhere in between.
"BlueLink brings important information from the field instantly to the managers and decision makers who rely on timeliness and efficiency to drive profitability," says Brandon Barth, Graco's Director of Sales. "It's real-time, anywhere or any time. You'll have the information you need to make the management decisions that can improve your efficiency and performance."
BlueLink lets you know exactly how much paint is being used at a job site, and how much remains on hand. By providing a link to open your Sherwin-Williams PRO App, you'll then be able to manage paint and supply deliveries, ensuring that the right amount of materials needed to complete a job will always be on hand. Along with productivity reports that can help measure and track your crew's performance, your Bluetooth-enabled sprayers will deliver tracking information and maintenance alerts, ensuring that your sprayer is ready and operating smoothly for every job.
Companies ranging from owner-operators to large contractors will enjoy the benefits of this streamlining technology. Individual contractors will benefit most by tracking projects per gallon usage and hours, helping refine bidding and time management as well as monitor maintenance needs. Larger companies will find location tracking information particularly valuable, along with productivity and maintenance information.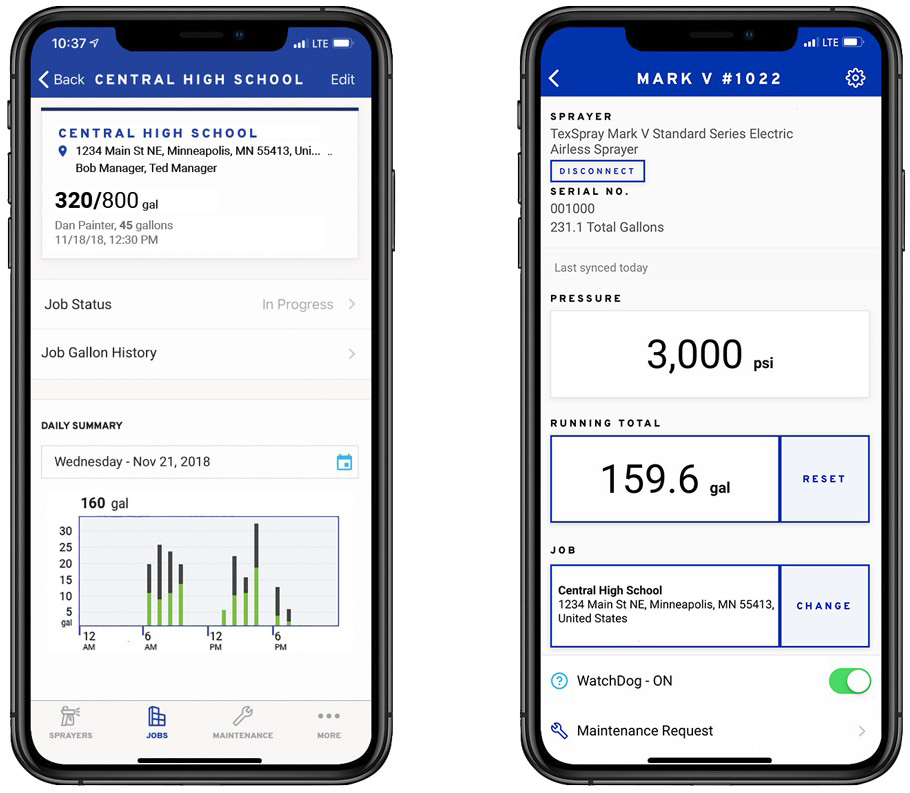 BlueLink, which is available in nine languages including Spanish, also provides quick access to Graco product information and provides an easy link to your Sherwin-Williams store, providing a valuable resource for application, maintenance and parts information.
"BlueLink delivers the power of a mobile app to improve the way you manage your business," says Barth. "From maximizing uptime to tracking job progress, it's the next best thing to being at the jobsite yourself — and might be better."
Download BlueLink: