The new Gallery Series™ Waterborne Topcoat offers color choices and boosts productivity.
With more and more homeowners looking to update their living spaces, refinished cabinets can give homeowners the high-end looks they desire without the equally high-end costs of replacing cabinets entirely. This trend can be very profitable for your painting business. However, cabinet refinishing can be labor-intensive and requires a system to be in place for maximum productivity.
Building that system starts with choosing the right product—and the new Gallery Series™ Waterborne Topcoat is the right product for the job.
Finish Projects Fast
The Gallery Series™ Waterborne Topcoat delivers a hard, durable finish that meets Kitchen Cabinet Manufacturers Association requirements when properly applied—yet it does so while boasting almost unbelievably fast dry times. It dries to the touch just 30 minutes after application, and can be recoated in as little as 45 minutes. It's a high-grade coating with excellent flow and leveling that's formulated for professional spray application, whether airless, HVLP, air-assisted airless, or conventional. And as a self-sealing, single-component formula, it combines the convenience of no on-site mixing with the performance of a two-part enamel coating.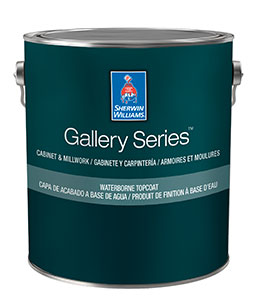 The results speak for themselves. In fact, painters using Gallery Series™ have been found to recoat up to 8 times faster than traditional architectural cabinet and trim coating.* It's this efficiency that makes Gallery Series™ part of the latest wave of Sherwin-Williams PRO+ductive Solutions, an ongoing series of products and services designed to help contractors save time, complete jobs quickly, and save money to generate more profit.
Present Color Options
The Gallery Series™ Waterborne Topcoat also features plenty of color options for even the most selective customer. Gallery Series™ coatings can be tinted to any hue in the Sherwin-Williams ColorSnap® system using the ColorCast Ecotoner® colorants at any Sherwin-Williams store location.
Does your client want a fresh new look, but isn't sure what they want beyond that? No problem! Even if you don't consider yourself a color expert, you can still position yourself to answer customers' color questions thanks to the Gallery Series™ Color Collection.
This online palette features 30 recommended color options specifically chosen by experts as great choices for cabinetry. Some of these options include the 2022 Color of the Year Evergreen Fog SW 9130, past colors of the month like Carnelian SW 7580 and Iron Ore SW 7069, and trendy expert picks like Silver Strand SW 7057 and Gauntlet Gray SW 7019. Use these colors as a starting point with potential clients.
Refine Your System
Painters looking to further improve their cabinet refinishing process can use the Gallery Series™ Cabinet Refinishing Guide. This step-by-step guide walks painters through getting the most out of the Gallery Series™ Waterborne Topcoat and leaving cabinets with a beautiful, factory-like finish.
The guide also contains photo examples of the difference customers can look forward to when the job is done, as well as supplementary product recommendations, including floor protection, sandpaper, and paint sprayers that deliver excellent results.
The full Gallery Series™ Cabinet Refinishing Guide can be accessed here.
Conclusion
Don't waste time with suboptimal systems and products. Instead, use Gallery Series™ to finish jobs faster while offering customers the quality and color flexibility they crave.
* Based on recoat times as stated in applicable Sherwin-Williams Product Data Sheets