Painting the towering letters of the world-famous Hollywood Sign is no easy task. In this article, we take an in-depth look at the measures a California painting company took to deliver a beautiful, long-lasting finish while ensuring that the job site was as safe as possible for its workers.

A one-of-a-kind project
Originally erected as a billboard for the Hollywoodland real estate development, the sign was intended to stand for only 18 months but soon took on the role of giant marquee for the city. In 1978, spurred in part by a public campaign by rock star Alice Cooper, the deteriorating sign was replaced with a more permanent steel structure. Today's sign is four stories high and 450 feet long. Each letter is 45 feet high and between 31 and 39 feet wide.
Duggan and Associates, a commercial painting company based in Los Angeles, was hired to give the letters a fresh coat of paint for the sign's centennial in 2023.
Keeping paint crews safe and productive on this challenging job site was a top priority for the company, says owner Chris Duggan. He and his team worked closely with a local scaffolding and staging company which designed custom swing stages specifically for the steep incline where the letters were erected. At anywhere from 31 to 39 feet across, they were similar to swing stages used by window washers on high-rise buildings and secured safety lines.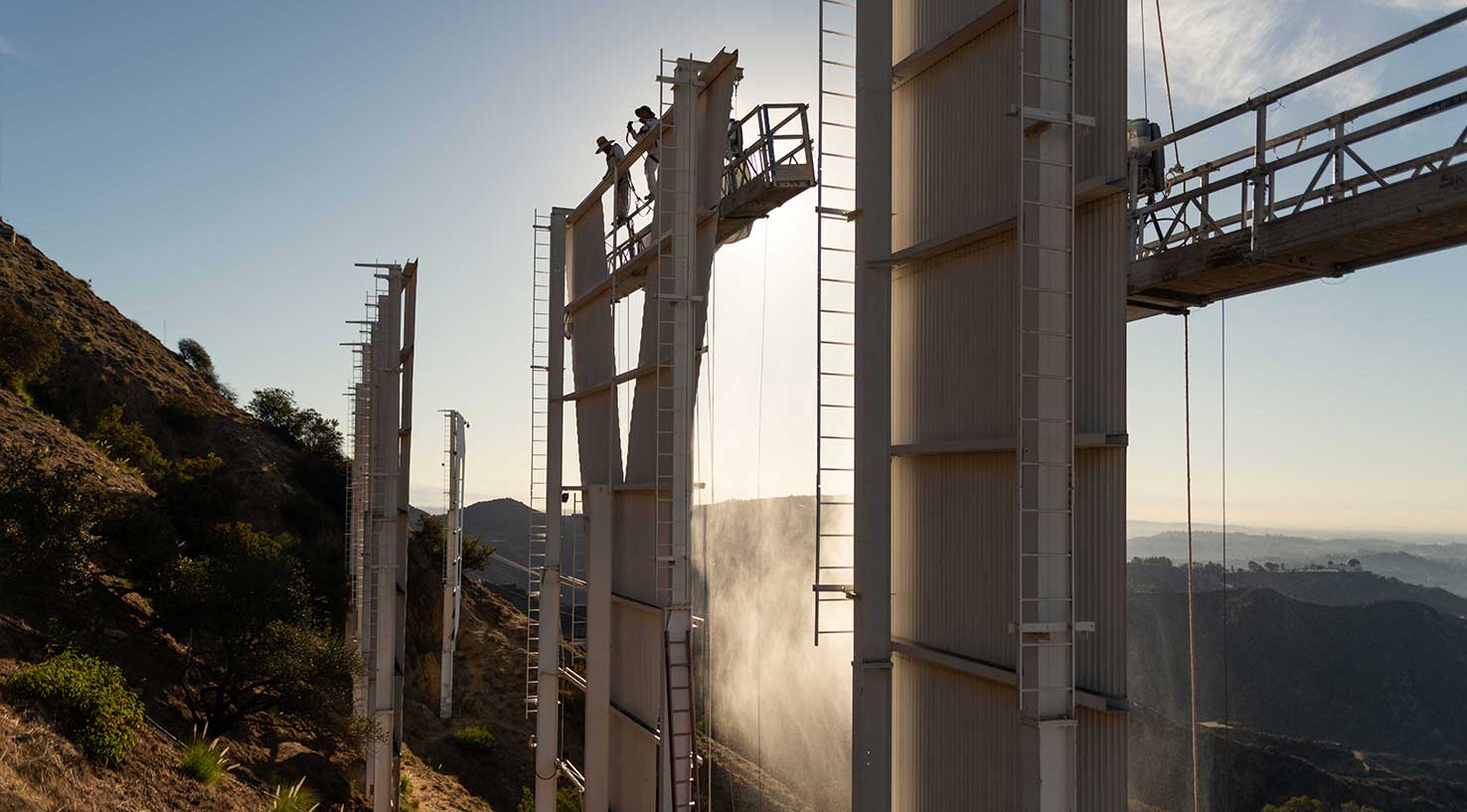 A dedicated crew of 10 workers from Duggan and Associates worked on the sign from sunrise to sunset over a period of four weeks, finishing the job nearly a month ahead of schedule.
The letters were first pressure washed, then spot primed with Pro Industrial™ Pro-Cryl® Universal Acrylic Primer, a water-based primer engineered for use on surfaces where rust and corrosion resistance are critical.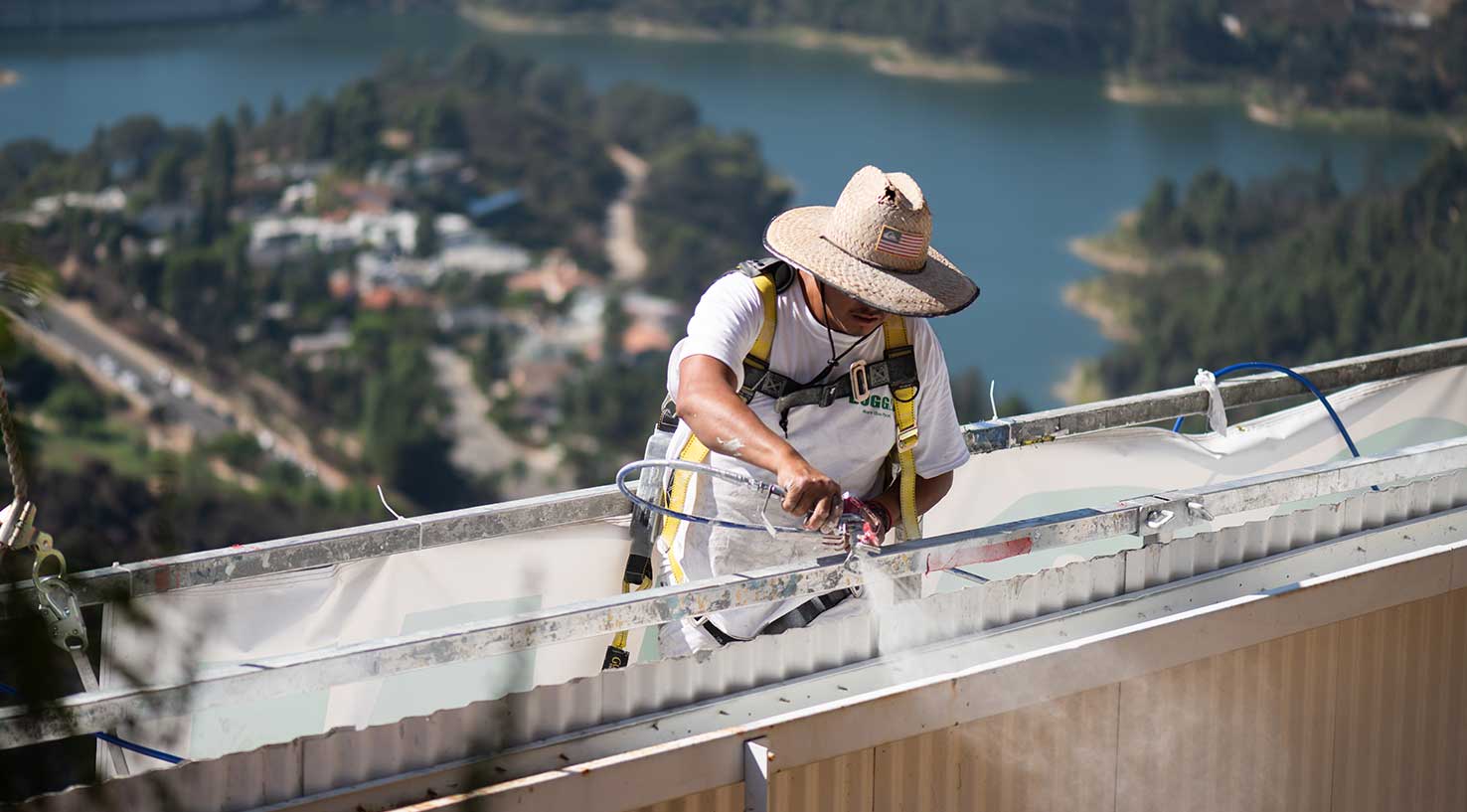 Emerald® Rain Refresh™ was chosen for the topcoat. This ultra-durable exterior acrylic latex paint is noted for its innovative Self-Cleaning Technology™ – formulated to wash dirt away upon contact with rain or water for a clean and fresh look with minimal maintenance.
In addition, Emerald Rain Refresh has excellent UV and weather protection that will keep the sign gleaming for years to come beneath the California sun.
The letters also got a new paint color: Extra White SW 7006 (257-C1), which is being referred to as "Hollywood Centennial White" for this occasion.
In all, Duggan's crew applied about 300 gallons of Emerald Rain Refresh and 80 gallons of Pro-Cryl on the Hollywood Sign repaint. Some Macropoxy® epoxy was also used on isolated areas for additional corrosion protection.
Duggan singled out three members of his team as instrumental to the successful completion of this project on time and under budget: field office supervisor Roger Martinez, on-site supervisor Gustavo Quiyuch and equipment manager Joe Barraza.
"Because of their efforts, the job was a complete success," he says.
Over 33 years in business, his company has handled many types and sizes of commercial painting jobs. But the Hollywood Sign may be the most high-profile job of them all.
"When you have an opportunity to paint a nationally known landmark, you jump at those opportunities," Duggan says.
Watch a time-lapse video of the Hollywood Sign repaint
This article was published in the Spring 2023 issue of PPC magazine. ©2023 Randall Reilly. Story by Mike Starling, PPC Editor. Photography by Karan Batia. Read about other high-profile paint projects in the PPC magazine archive.