Be prepared with these safety tips from the experts at 3M
Respirators are important. You know that well as a painter. After all, a properly chosen respirator can help keep you breathing easily even when you're surrounded by paint chemicals and airborne particles. It's not just you, either; more and more people have learned about the value of respirators since the pandemic.
"Since COVID-19, many more people know what N95s are," says Jason Lunn, Application Engineer at 3M. "Plus, many people now understand the difference between a mask and a respirator—that it comes down to the fact that NIOSH-approved respirators are designed to form a tight seal to the face, while masks are not and can have gaps around the edges."
But there's still plenty of things many people—even veteran painting contractors—don't know about respirator safety. Lunn believes it's because most people were never taught it.
"I've met a lot of people who have been in this industry for years and even decades, yet still don't know some of the basics—just because there's a lack of education out there," Lunn says. "They want to learn, but nobody ever told them how respirators work."
In this article, Lunn breaks down four big pieces of information that many professional painters don't know about respirators.
1. Hazard Assessments Are Necessary
Professional painting contractors are required to perform hazard assessments to determine what types of respiratory hazards their painting crews will be exposed to and whether those materials are above the occupational exposure limit. Oftentimes painters don't know where to turn for such an assessment, but Lunn points out that painters can get a free assessment done by an unlikely source: OSHA.
Though many painters tell Lunn they are a little leery of inviting OSHA to their worksites, he says those concerns are misguided and unfounded —and in fact, it may even qualify their business for a one-year exemption from routine OSHA inspections.
"Lots of painters say, 'I'm not going to call OSHA to come down to my job site if I don't have to,' and I understand that," Lunn says. "But the thing is, you're calling in OSHA On-site Consultation, not the enforcement side. It's free and confidential. OSHA will not come to your job site looking to hand out citations or penalties. They can help you examine the job site to help find potential hazards, help identify what you need to work safely, and even help walk you through a respirator protection program."
Once the hazard assessment is done, painters can use the results to determine the appropriate respirator—and other personal protective equipment—for the job. For more information, 3M's Respirator Selection Guide provides general information as well as specific respirator selection criteria for particulate hazards and a wide range of chemical compounds.
2. Respirator Fit Tests Are Necessary
Another mandatory requirement for your painting crew if they need to wear a disposable or reusable respirator is annual respirator fit testing. (Note: you need to be medically cleared prior to a fit test.) Though they're not hard to do and can take just 10-15 minutes, Lunn notes that they can feel like a hassle for painters who don't understand why the process is necessary. He points out that fit testing has a very specific objective—ensuring that each painter has a respirator that fits and creates a proper seal to their unique face shape and size. When a respirator has a proper seal, inhaled air will flow through the filters or cartridges rather than around the outside edges of the respirator where it seals to the face.
"For the qualitative respiratory fit test, you put your respirator on, and then they put a hood over your head, with a hole in the front and a clear shield," Lunn says. "The person giving the fit test will spray a sweet or bitter-tasting particulate mist into the hood periodically while you perform a number of movements such as breathing in deeply or moving your head side to side. The test is trying to replicate real life movement you may do while working to see if the respirator can maintain a proper seal. If any of that mist leaks in around the edges of the respirator at any time and you can taste it, you know the seal was broken. One more thing to note is that facial hair will break the seal, so you need to be clean shaven for the fit test, and any time you wear the respirator thereafter.
"Many people are unsure why they need to be fit tested, but once they understand it's about the seal and that they're taking an active part in helping protect themselves, the testing may seem less arbitrary. In other words, by understanding why they need to take time out of their day for fit testing and how it will help them stay safe on the jobsite, it can help them feel more empowered to want to do it."
3. Cartridge Color Matters
Painters know that just because they have the right brush, that doesn't necessarily mean they have the right paint for the job. It's the same for respirators—choosing the right respirator is only one part of the process.
Many painters will primarily use reusable respirators rather than disposable respirators due to their versatility. Reusable respirators can use particle filters, chemical cartridges, or even a combination of the two. If your respirator uses cartridges, it's important to have a regular change out schedule for replacing those cartridges. Plus, you need to make sure you have the correct cartridge for your application, so make sure to look at the packaging or the colored label on the cartridge itself to see what types of hazards the cartridge is designed for.
"I worked with a professional painter who's been in the business for over 20 years, and even he didn't realize different cartridge colors mean different things," Lunn says. "He thought 'Cartridges are cartridges,' which is incorrect. It's not one-size-fits-all. One color won't work for everything."
While there are many different color designations (shown below), painters working in the residential repaint space will usually need either black (for certain organic vapors) or yellow (for certain organic vapors and acid gases). While hazard assessments should always be done to determine which protection is necessary, painters can begin to prepare for a new job by considering what types of vapors and gases they're likely to run into. Organic vapors can be thought of as solvent odors—something with a fragrant smell to it, such as paint—while acid gases are more apt to burn or irritate your nose or eyes, such as chlorine bleach.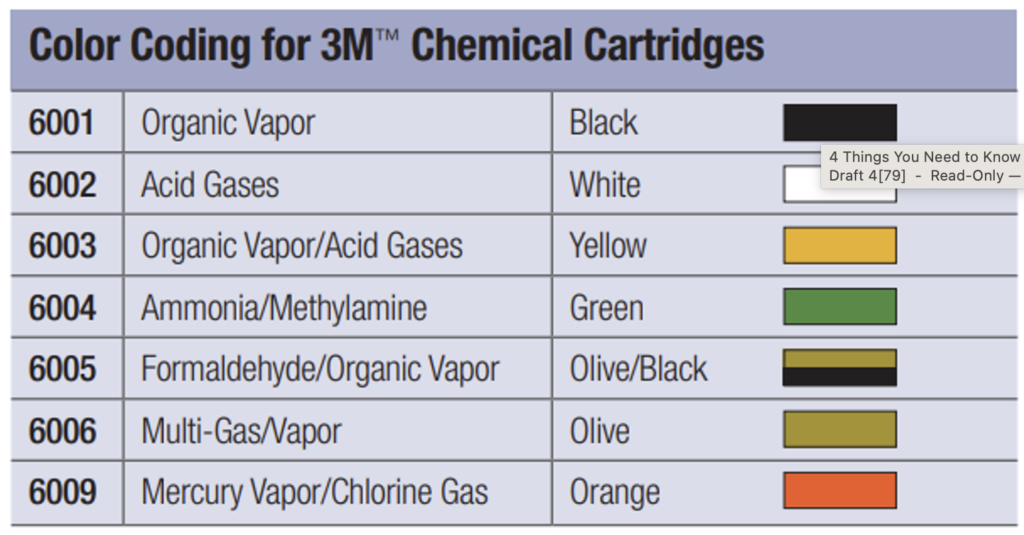 4. New Models Mean New Features
Pay attention to innovations in respirators. Beyond new comfort features, products may also offer new technologies that have been designed to help solve painter's major pain points. A great example is the 3M™ Quick Latch reusable respirator.
Lunn says, "We launched the 3M Paint Project Respirator with Quick Latch a few years ago. This reusable respirator features the proprietary Quick Latch system that makes it very easy to quickly take on and off the respirator in a non-contaminated area. There's no need to adjust straps or take off other safety products as you're raising and lowering the respirator. It lets you take a quick break or have a conversation with the simple flip of the lever. Yet I have met many people over the years that recognized and even bought the 3M Quick Latch reusable respirator but didn't know there was a latch on the product, let alone what it did. Once I showed it to them, their faces lit up, and they usually followed up with, 'That's awesome.' Now, more people know about it, but it took some time for people to fully get it."
Another example is the 3M™ Aura™ Particulate Respirator 9205+. This N95 disposable respirator features a unique three-panel horizontal flat-fold design. Not only is it easier to store without fear of crushing it like a cup-style disposable respirator, but it was also designed to be breathable, comfortable, and fit a wide range of face shapes and sizes. Another key feature is the top panel, which is embossed to help push exhaled air downward instead of upward helping to decrease fogging of eyewear—which is "a huge win" for painters, says Lunn.
"The 9205+ became extremely popular very quickly, because word of mouth got around," he says. "People love it, and many prefer it over the cup style."
The moral of the story? Pay attention to what you're buying and look for features and benefits that may help you wear PPE more comfortable or help make your work easier—or both! And of course, always read the User Instructions fully.
Conclusion
Staying up to date on respirator regulations and innovations may seem like a hassle when you're ready to get started on painting, but it's worth the investment. Following this advice can help your business stay on OSHA's good side, enjoy the most cutting-edge products, and most of all help keep your employees safe and healthy for years to come.