This article by Chris Moore is the second in a new four-part series from PPC and the Painting Contractors Association (PCA) designed to help you understand and prepare for the challenges of business growth.

Imagine for a second that you're on a roller coaster.
You're climbing up the initial incline building momentum for the rest of the ride before the initial drop happens. What follows is 60 to 90 seconds of sheer thrill with a rush of adrenaline and happiness! Or maybe you feel a little sick to your stomach.
Either way, running a painting business is exactly like riding your favorite roller coaster. I remember working on projects where things were going smoothly, and I knew I was making a ton of money. I also remember working on a few projects where I basically paid the homeowner to let us work on their house when all was said and done.
In my opinion, the purpose of business is to fund the lifestyle you want to have. Whether that involves taking vacations, time freedom and flexibility, working 25 hours a week so you can spend quality time with your family, or donating your time, money, and talents to charity once a month, finances are a necessity.
The only problem is, if the goal of business is to make money, why do so few contractors focus on their financials?
Here are three tips to help simplify your finances and ensure you're making money:
1. Job costing
You should know how much money you made after every single project. Doing a simple job cost by adding up your labor cost and the materials purchased can help you get a gauge on two key indicators:
Are you estimating your projects accurately for time and materials?
Are your employee's efficient and producing work at industry average rates?
When you job cost each project, you should compare what was estimated (hours and materials) and what occurred to determine if there is a disconnect between the two.
2. Cash flow
Job costing is the first financial fundamental, but the second aspect of knowing your numbers is analyzing how much money your company makes each month. Usually if your business is struggling financially and the gross profit (after labor and materials) on your projects is 40 percent or greater it's one of three things:
You aren't producing enough work each month
You are overpaying yourself as the owner
Your overhead and monthly expenses are higher than they should be for your stage of business
Factor in your salary/distributions and all other operating expenses of your business (outside of labor and materials) to determine what the net cash flow of your business is each month.
P.S. only factor in the revenue amount for jobs completed during the month, do not factor in deposit checks for future projects or checks collected from the previous month's projects.
3. Hide the money
You know by now if you give a painter eight hours to do a four-hour task, they will take eight hours to do it.
Did you know the same holds true in your business? If you see $10,000 in your bank account, you'll find a way to spend it! The problem is, when you see $10,000 in your bank account, that's not what is truly available to be spent when you factor in all payables and receivables.
Here are three ways we recommend systematizing your finances:
Create a deposit account: Open a savings account attached to your business checking to deposit all checks. Once materials are purchased or a job is started, then move that deposit over to the working capital of the business
Proactively save for taxes: If you make quarterly estimated tax payments or always have a giant tax bill to pay each spring, add a second savings account and put a percentage of revenue (typically around five to 10 percent) of each job into this account and only take the money out to pay your federal and state taxes
Accurate bank balance: Have a place to track all payables and receivables to determine what your actual bank balance is instead of looking at the number in your online banking
I think it's important to remember that losing money or making very little on a project is inevitable. It happens from time to time, and you must push through and move on.
The important question I ask every one of our clients when this happens is "what did you learn from it?"
If you can continually learn and grow from these situations, avoid them in the future, and have a strong handle on your finances, these projects will be nothing more than a small bump in the road.
Enjoy the journey!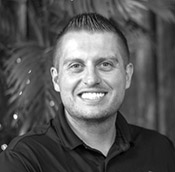 Chris Moore is the founder of Elite Business Advisors. He spent a decade in the painting industry running his own residential repaint business before shifting his full-time focus to helping other painting contractors across North America simplify and grow their business. Chris is a member of the Painting Contractors Association (PCA) and hosts their weekly Elite Business Advice podcast. Find this and more resources designed by painters, for painters at pcaoverdrive.org.
This article was originally published in the Summer 2022 issue of PPC magazine. ©2022 Northbrook Publishing.