It may be known as the Purdy® Painter's Backpack, but that descriptor doesn't do justice to the level of organization and storage this innovative new offering brings to the professional painting contractor.
With features ranging from wet brush storage to an extension pole pocket, to preparation tool holders, and to an external USB connector, the Purdy Painter's Backpack is designed by pros, for pros, a claim that is quite literally true, according to Sharad Gaurav, Purdy Product Manager – Storage, Mobility, and Organization.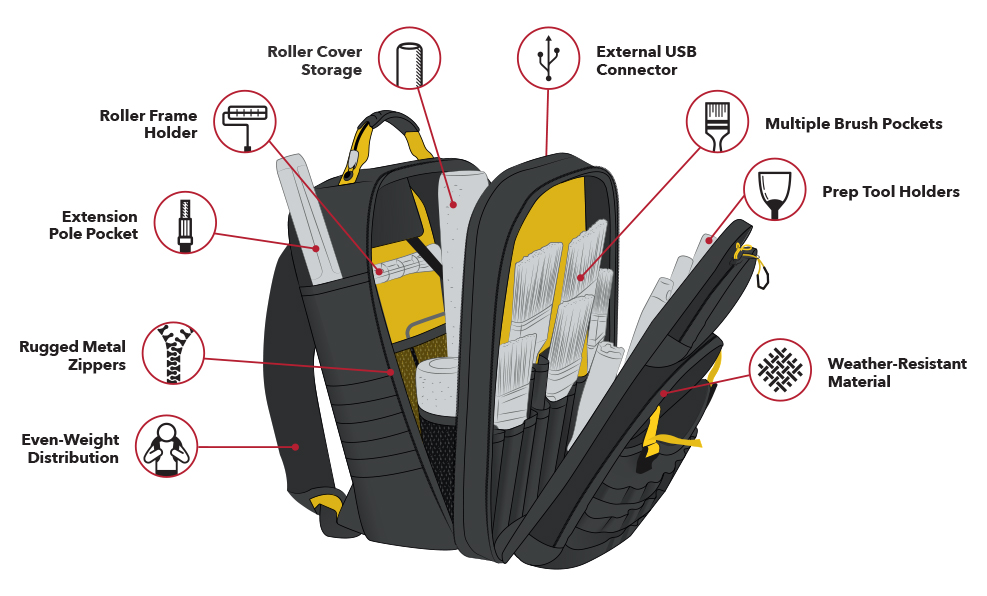 "It started with an ethnographic study where we went into the market and looked for unmet needs of painters," says Gaurav. "During the study, we realized that painters needed a better storage and organization system for their tools. The painters who were using storage systems were using products that were designed for general contractors, roofers, or electricians, and they were somehow making it work for them. There was no product for the painter."
The Purdy product development team came up with a variety of early prototypes to meet painter's storage needs, including tote bags and wheeled devices. After presenting the options to painter focus groups, the backpack configuration emerged as the painter's choice. But what remained were decisions on exactly how the backpack would best function.
Feedback from pro painters shaped the design
Multiple one-on-one interviews were conducted with painters across the U.S. on all kinds of job sites.
"We wanted to make sure the Purdy Painter's Backpack is easy and convenient to use," Gaurav says. "We made sure to go back to painters in the field and collect their feedback on each and every stage. Then we kept refining the prototype until we finally honed in on one particular design."
A wet storage pouch feature was added to allow painters to isolate wet brushes and roller covers and clean them later. Portability, including the needs of the painter who uses public transportation, was a key design consideration. Keeping the weight of the backpack to a minimum was also top of mind.
"If someone is climbing a flight of stairs at a job site, it's easy to carry this product," Gaurav says. "And now that their hands are free, they can carry extra paint, for example."
Bottom line: using this new backpack enables a painter to carry everything they might need to the job site and minimizes trips back to a vehicle. The final result is improved efficiency and productivity on the job.
The Purdy Painter's Backpack is available exclusively from Sherwin-Williams. Use the handy store locator to find a store near you.