Precision Painting & Decorating (PPD) is a full-service commercial and residential painting company based in Bellwood, Illinois. Over the past 17 years, they have tackled some of the most challenging coating jobs in the Chicagoland area. One good example is their work at Grizzly Jack's Grand Bear Resort in Utica, Illinois.

"When we first toured Grand Bear Lodge, they had just experienced a devastating fire," says Aaron Moore, PPD President. The damage required a complete tear-off and replacement of the roof, sealing to prevent smoke odor, staining of new roof panels/ trusses, recoating of the pool deck, and painting all of the walls.
Pro Industrial™ for the walls

For the walls, PPD chose Pro Industrial™ Pre-Catalyzed Waterbased Epoxy for its moisture resistance, durability and washability.
"This is one of our go-to products," Moore says. "We use it on many different substrates, drywall, metal, CMU block, etc. We find it to be extremely durable, and it stands up to repeated cleanings."
The single component, water-based epoxy is formulated to save paint crews valuable time. There is no need to mix or measure, and no limited pot life. Its excellent hide and great coverage minimizes the number of coats needed.
A perfect match for the wood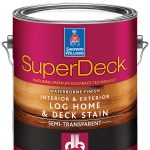 There were numerous exposed wood beams and ceilings on this job. PPD selected SuperDeck® Log Home & Deck Stain for these surfaces.
"It was primarily an aesthetic decision," Moore says. "We were able to get a good match to the existing wood that was remaining in the waterpark."
Ease of application was also a factor.
SuperDeck Log Home & Deck Stain is formulated to provide the easy application and cleanup qualities of a traditional water- based stain, with far less labor than a traditional varnish. Its quick-curing formula allows for recoating in just four hours.
"Due to the height of the ceiling and the challenges to reach the ceiling in some areas, the majority of the coating was applied on the ground prior to application," Moore says.
The rich, satin finish of this advanced interior-exterior waterborne coating will last for years, completing the rehab of the Grand Bear Resort after a fire disaster.
This article was originally published in the Spring 2020 issue of PPC magazine. Story by Mike Starling, PPC Editor. Photography courtesy Precision Painting & Decorating. Read about other successful, high-profile projects in the PPC Digital Archive.