Charleston, South Carolina is a great place to be a painting contractor. But it is also a highly competitive market, with plenty of savvy homeowners and top-quality builders who will accept nothing less than the best.
Doing what it takes to succeed
Founded in 2004 by Ben Golde, Classic Quality Painting has made its mark in Charleston as a boutique painting company painting high-end custom homes and distinguished commercial properties. They also offer finishing of custom hand-crafted cabinetry.
"Our mission, 'A classic finish can only be achieved through quality preparation,' is embedded in the culture of the company," Golde says. "We collaborate with leading custom home builders and commercial builders throughout the Charleston area to provide a clean finish. And, we are called upon by Charleston's five-star hotels to create a finish that provides their guests with the feel of the comfort and luxury of their own homes."
Establishing themselves in the community
Community service, says Golde, is one of the company's core values.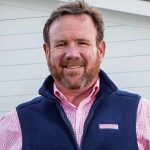 "Some painters think speed equals money, but my answer is no! Quality equals repeat business, which equals long-term money."
"Through the leadership of both my grandfather and father, I learned the importance of giving back to the community your business serves," he says. "Last summer, along with Structures Building Company and JacksonBuilt Custom Homes, we sponsored the development of a new home through the East Cooper Habitat for Humanity."
The company's projects have been featured in such publications as Architectural Digest, Charleston Home and Design, Southern Living and Home & Garden TV Magazine.
Prep for perfection
Surface prep is the first important step on every Classic Quality Painting job, Golde says.
"A classic finish can only be achieved through the highest quality preparation," he says. "Some new or young painters think speed equals money, but my answer is no! Quality equals repeat business, which equals long-term money. I tell my team all the time: 'Don't even ask me, just make it right the first time!'"
Premium jobs demand premium paint
Cashmere® Interior Acrylic Latex is the company's go-to interior wall paint.
"Cashmere is just the best overall quality paint I have ever found," Golde says. "It covers very well with all colors and touches up great. It has a great feel when finished, hence the name Cashmere."
In addition, he says, homeowners love the durability and washability of Cashmere.
"They can easily touch up as well without painting the whole wall," he says. "We take great pride in using excellent grade materials, and using Cashmere has separated us from the competition. I use the same paint in my own home."
On interior trim, Golde says they work primarily with ProMar 200 Alkyd Semi-Gloss and Pro Classic Enamel.
"In our higher-end jobs, I highly recommend Pro Classic for its incredible look and durability for the homeowner," he says.
For exteriors, Golde likes Duration®, SuperPaint® or Resilience®, depending on budgets and specific project needs.
Hands-on customer service
For Classic Quality Painting, premium quality service is just as important as using premium coatings.
"They pride themselves on the collaboration between their business and the builders they service," says Jim Voelkel, Charleston District Sales Manager. "This partnership is a direct result of Ben's interactive approach to serving his customers. He is a hands-on owner, visiting job sites on a daily basis, and maintaining himself as the face of the Classic Quality Painting name."
Bottom line: Never stop improving
In the end, it's a constant battle to be the best.
"The paint industry has many challenges," Golde says. "Our builders are trying to satisfy a market that is based on budgets but still has high expectations for the best quality. That's why I am always looking for ways to improve our efficiency and maintain the highest levels of quality to our clients."
This article was originally published in the Summer 2017 issue of PPC magazine. Story by Mike Starling, PPC Editor. Photos courtesy Classic Quality Painting. Read about other successful painting projects in the PPC digital archive.