When Allen Wootten stopped by the Sherwin-Williams store in Fayetteville, Arkansas last summer, he had no idea that he would be driving away with a new Ram truck in November.

But that's exactly what happened for Wootten, who is the general manager at Paint Innovators, Inc. of nearby Springdale.
Shocked to win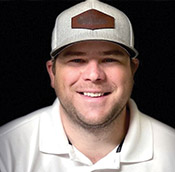 Wootten saw the ad for the sweepstakes at his local Sherwin-Williams store and filled out a single entry.
"I did not think I would win," he says. "I usually find more money on the floor of the casino than I win, so I was shocked to hear I was No. 1 out of 633,000 entries. It was surreal when they delivered the truck to my house. I couldn't believe it!
"When the 3M/Sherwin-Williams crew came down to present it to me, it was a special day. It was very cool to win something like this for our area/market and I enjoyed getting to meet and greet with them and showing them what our day-to-day is like at our company. Blessed and honored to be a part of it."
Plus, it's a really well-designed truck, Wootten adds.
"Among all the cool options on the exterior like the side tool boxes, the interior is what really gave me the 'wow' factor," he says. "The cabin is quiet and sleek. The sound system is amazing and the ride is so smooth. The full- screen rear view mirror, pop-up display
in the windshield, and the middle-dash technology are just some of the next-level options this truck has. I was amazed."
Part of a dedicated team
Wootten is a key member of the team at Paint Innovators.
As a project manager, he plans and oversees painting and epoxy projects to make sure they are completed according to schedule and within budget. He also monitors project progress and communicates with his team to establish scope of work.
The company was founded in 2014 by Rodney Barnes. He began with a small crew and made sure that the focus was on quality painting with professional painters. The company grew quickly and expanded from residential into commercial in 2016. Their current work is about 70 percent commercial and 30 percent residential.
Wootten is one of many "great employees that are dedicated to the same goals, ethics, and standards that Paint Innovators was founded on," Barnes says.
The best part of owning a painting company
Barnes says he always wanted to be his own boss, but says the best thing about running his own paint company is changing the life of his employees.
"If you want to be in a career that will never go away, painting is it. Everything needs painting. The sky is the limit when you set your mind to it."
Painting Innovators' expansion into a second location in Tulsa, Oklahoma in 2019 is a testament to that.
"We knew if we could be successful in a different location, we could succeed anywhere," he says. "So that would open up an avenue to open locations in other areas."
His final advice to anyone considering a coatings career?
"If you want to be successful in the painting world, it takes a lot of work, dedication, problem solving, and adapting to new trends," he says. "If you put in the time to grow the business the right way, painting is an awesome way to change you and your families' stars,
if that is what you are looking for. It is a very rewarding business."
Here's how you could win a truck in 2022
Once again, 3M and Sherwin-Williams are teaming up to give a customer a chance to win a new truck.
This year's ScotchBlue® Pro Painter's Tape Sweepstakes begins on July 1, 2022 and ends on October 31, 2022. The grand prize is a 2022 Ram 1500 Rebel Truck. Approximate retail value: $60,000.
Visit the counter card/ displays at Sherwin-Williams paint stores to learn more and enter.
Or enter online at 3M.com/ProPainterSweeps.
This article was originally published in the Summer 2022 issue of PPC magazine. ©2022 Northbrook Publishing. Written by Mike Starling, PPC Editor. Photography courtesy 3M, Sherwin-Williams and Paint Innovators, Inc. Read more stories about running your painting business in the PPC magazine archive.