In this article, we explore the importance of sheen and gloss, and how those qualities impact both the longevity and appearance of the paint finish.
Starting points
Selecting or recommending the correct paint is about finding the coating with the right mix of functional and aesthetic properties. While choosing product, it's good to understand how sheen and gloss impact both the longevity and appearance of the finish.
Factors to consider
Pros know, for instance, that kitchens and bathrooms have greater coating demands than a spare bedroom, and that it's wise to use different paint in areas where food is prepared than an office. But you'll also want to consider other factors.
For instance, is the room a high-traffic or low-traffic area? Windows also come into play. You might not want to use a high-gloss finish in a room flooded with natural light. It's helpful to consider the room from all angles before making a decision.
Four important points to remember
Gloss and sheen choice should be based upon the type of room, what is being painted, lighting, position of windows, traffic, performance expectations, and aesthetic preference.
Every Sherwin-Williams product has a gloss or sheen value. Some have both.
Paints with a lower gloss/sheen will hide wall imperfections better than paints with a higher gloss/sheen.
Paints with a higher gloss/sheen will generally be easier to clean. However, the exceptions are products like Emerald® Interior Acrylic Latex and Duration Home® Interior Acrylic Latex, which provide exceptional washability at all sheen levels.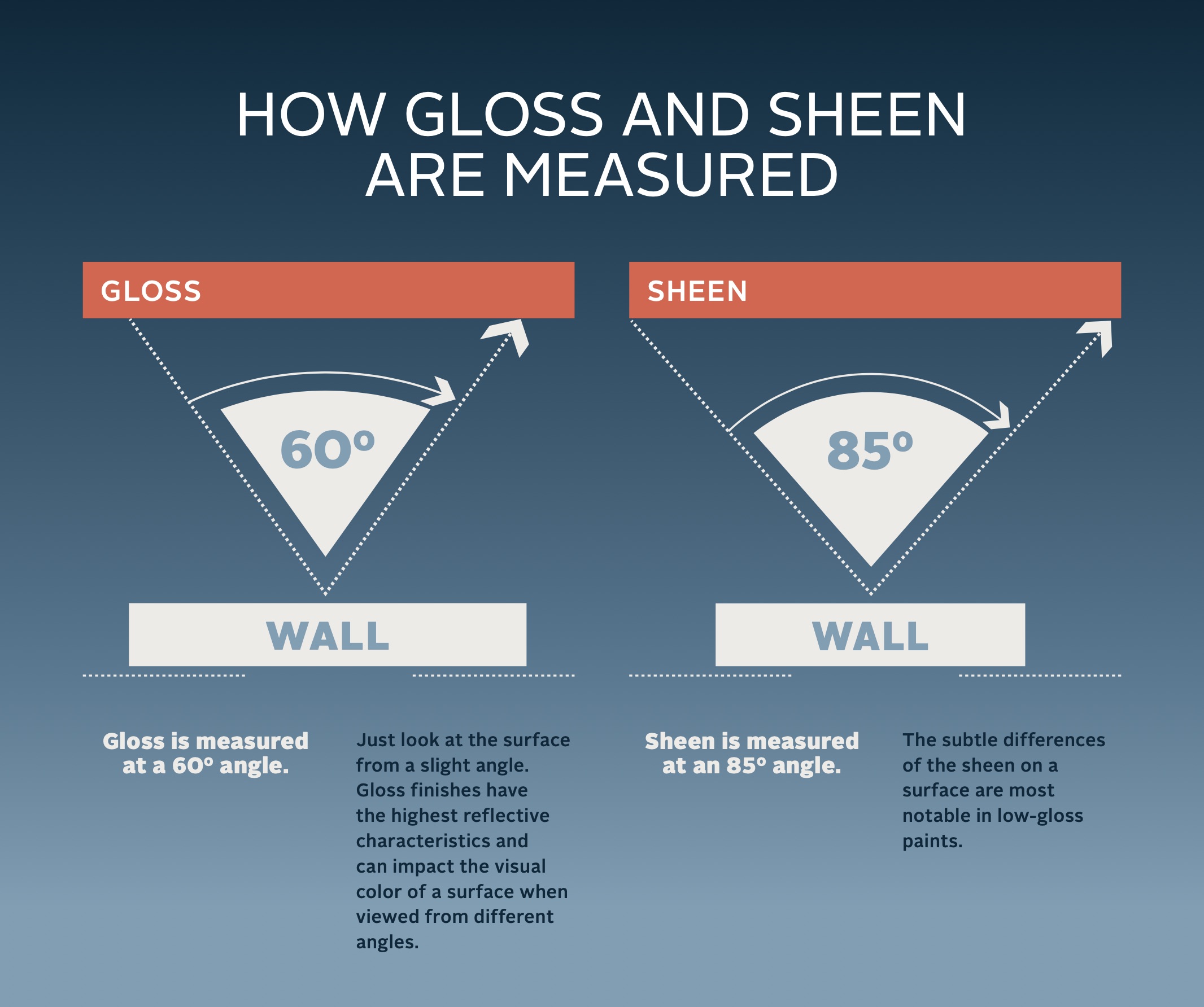 Measuring gloss and sheen
Gloss and sheen reflectance are measured on a scale of 0 (no gloss) to 100 (mirror-like).
Reflectance is typically measured by deflecting a single beam of light at a specific angle off a surface. The light is deflected into a receptor, which measures the intensity in units. The higher the number of units, the shinier the surface.
Gloss is measured at 60° angle. Gloss finishes have the highest reflective characteristics and can impact the visual color of a surface when viewed from different angles.
Sheen is measured at an 85° angle. The subtle differences of the sheen on a surface are most notable in low-gloss paints.
60° and 85° references are a guide to reflect average gloss and sheens in manufacturing when force dried at 4 mils wet. Refer to the product data sheets for more information.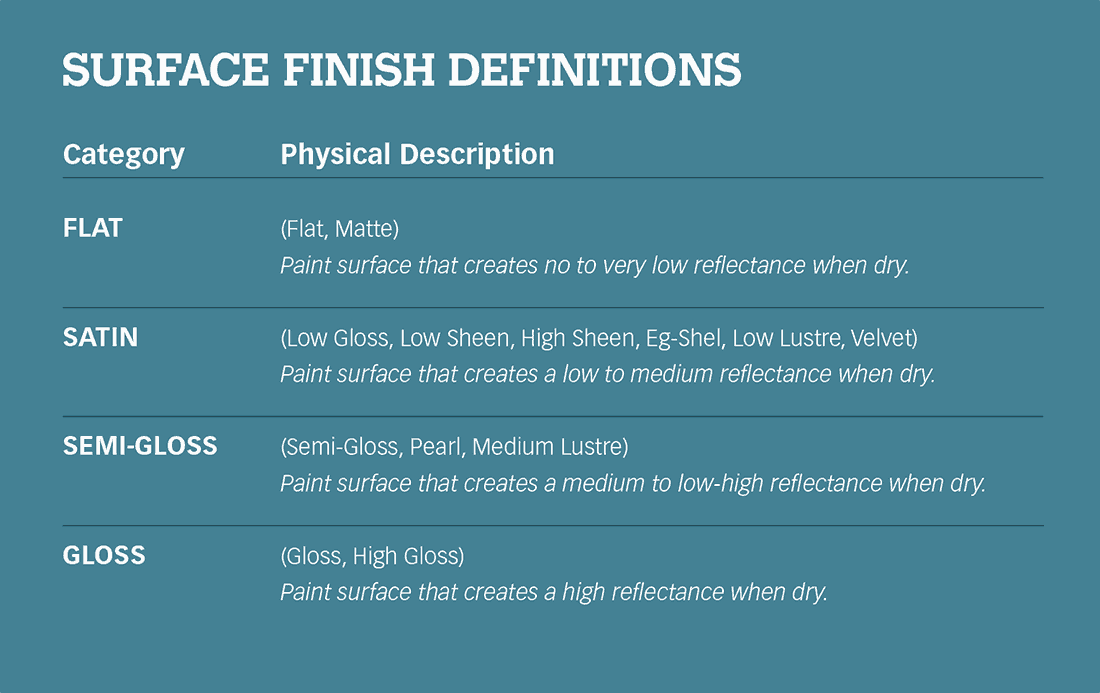 Surface finish definitions
Flat category (flat, matte): Paint surface that creates no to very low reflectance when dry.
Satin category (low gloss, low sheen, high sheen, eg-shel, low lustre, velvet): Paint surface that creates a low to medium reflectance when dry.
Semi-gloss category (semi-gloss, pearl, medium lustre): Paint surface that creates a medium to low-high reflectance when dry.
Gloss category (gloss, high gloss): Paint surface that creates a high reflectance when dry.
The right coating for the job
Sherwin-Williams offers coatings that meet all performance levels in the full range of gloss and sheen levels.
"We offer products for specific jobs, rather than broad formulations," says Rick Watson, Director of Product Information, Sherwin-Williams. "Select the right coating first, then decide which sheen or gloss level is preferred among those offered in that product line. And always remember that investing a little more in higher quality paint can offer big dividends in reduced maintenance costs over time."