The color choices on both walls and floors helped to make Expedia's new British Columbia offices a showcase waterfront space in downtown Vancouver.
The project: a nautical theme with stellar sea views
Expedia's new corporate headquarters is turning heads in Western Canada's largest city. First are the jaw-dropping views of the Burrard Inlet from the 8th and 9th floors of the Oceanic Plaza high-rise tower.
Next is the nautical motif: a reception desk shaped like a boat. Porthole-type windows on interior walls. A large sliding door inspired by the look of a shipping container, decorative hanging ropes, signage made from rope cleats. And, seaworthy paint colors designed to inspire creativity.
"The décor," according to the Globe and Mail, "is meant to represent both Vancouver's incredible geography and Expedia's branding, the office housing three of the growing company's groups: Expedia CruiseShipCenters, Expedia Lodging, and Expedia Worldwide Engineering."
The painter: a commercial real estate specialist
The paint contract was awarded to Olympic Painting, a Vancouver company led by Josh Owen. After running his own residential painting company, Pinnacle Painting, for seven years, Owen worked for three years in commercial real estate in Vancouver. Based on what he learned and the relationships he made in that field, he started Olympic Painting in 2014. One of their specialties is painting office spaces in downtown Vancouver.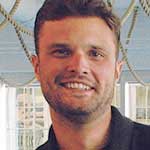 "This project has become the showpiece for both us and the general contractor. It's the job we want everyone to see." –Josh Owen, Olympic Painting
"The announcement of the new Expedia offices was big for Vancouver," Owen says. "There aren't a lot of corporate headquarters based here, and most of the jobs we do are in the 3,000 to 5,000 square foot range."
By contrast, the Expedia offices covered 28,497 square feet. The project required the attention of Olympic's full crew of 20 painters working simultaneously on two floors over a two-month period.
The paint: flawless walls and trim
All walls on this interior job were coated with Opulence® Interior Acrylic Latex. (Note: Opulence is known as Cashmere® Interior Latex in the U.S.)
The product's silky, low-stipple appearance surpassed painter and customer expectations. "Our crews love this paint," Owen says. "It's easy to use and offers a richer and smoother finish than traditional wall paint, especially with brighter colors and whites."
It is also scrubbable for easy cleaning and maintenance – another selling point for a busy office space.
The designer called for a mix of white walls (custom matched by Sherwin-Williams) with bold accent walls in Gecko SW 6719 (149-C6), Georgian Bay SW 6509 (175-C6), Rapture Blue SW 6773 (165-C4), Briny SW 6715 (165-C6) and one custom match to a raspberry tint.
Doors and trim were painted with All Surface Enamel, which provides exceptional durability perfect for doors, trim, windows and other areas that get hard wear.
"This is our go-to coating for trim and doors," Owen says. "All Surface Enamel has great adhesion, even to bare metal. It dries hard so we don't have to worry about scratching. It's really a foolproof coating."
The floor coatings: a unique color statement
Three rooms in the Expedia offices stand out for their brightly colored floors. Olympic crews accomplished a great-looking finish and excellent protection with ArmorSeal® 8100. Designed for use in commercial, industrial and residential floor applications, this less than 50g/L water-based polyamine epoxy has excellent chemical and abrasion resistance.
"Plus, our crews found it very easy to apply," Owen says. The bold colors – Gecko SW 6719 (149-C6), Rapture Blue SW 6773 (165-C4) and Briny SW 6715 (165-C6) – look brilliant and have made a huge impression on workers and visitors to the office.
In the end, the combination of color, design and premium coatings adds up to one spectacular space.
"This project," Owen says, "has become the showpiece for both us and the general contractor. It's the job we want everyone to see."
This article was originally published in the Fall 2017 issue of PPC magazine. Story and contractor photo by Mike Starling, PPC Editor. Interior room photos courtesy Barry Calhoun Photography. Read about other successful painting projects.