Time is money for professional painting contractors. SnapDry™ Semi-Gloss Interior Exterior Door and Trim Paint is a new product that will help you turn jobs faster.
Dries fast to save you time
SnapDry Door and Trim Paint from Sherwin-Williams offers outstanding results, without the wait. It dries in a fraction of the time of other trim paints. With sleek, appealing results in as little as an hour, it will help you increase efficiency and reduce downtime.
Not only does SnapDry eliminate the need to leave doors and windows open for hours, it also delivers a durable finish that will stand the test of time, both inside and out. This formula will resist dirt and fingerprints as well as UV weathering, for an excellent look that lasts.
Wide range of color options
SnapDry is available in Extra White, Deep and Ultradeep base options for virtually limitless color choices, allowing you to explore the latest interior and exterior color trends.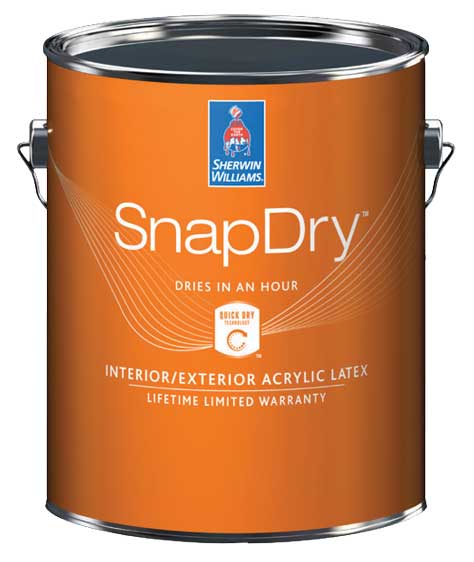 It is formulated for brush, roller or spray application, and the water-based formula offers easy clean-up.
SnapDry is available exclusively at Sherwin-Williams stores. Use their online store locator to find the one closest to you.
This article was originally published in the Summer 2016 issue of PPC magazine. Visit the Sherwin-Williams online product catalog for more paint and coatings information, data sheets, customer reviews, how-to videos and more.