The city of Fishers, Indiana has a colorful new welcoming mural, thanks to the Wilkinson Brothers and Sherwin-Williams paint.

Setting up the project
Fishers is a fast-growing suburb of Indianapolis. Casey Wilkinson and Corey Wilkinson are twin brothers and owners of Wilkinson Brothers studio in the city of about 95,000 people north of Indy.
Commissioned and donated to the community by the local Reid family, the mural project was curated with the assistance of Ross Hilleary, Assistant Director of Planning and Zoning for the City of Fishers.
The "canvas" was a 24-by-30-foot brick wall on a building built in 1913 for Fishers National Bank, which was liquidated in 1930. The building was recently renovated by CRG Residential and now sits within Nickel Plate Station, a mixed-use community.
"The mural's bold color palette represents the city's aim to create and maintain a vibrant place to live, learn, work and play," say the Wilkinson brothers.
Getting ready to paint
The rough brick on the 1913 building was a challenge for the painters and required careful coatings consideration to produce the most vibrant and longest-lasting results. Loxon® XP Waterproofing Masonry Coating was chosen for the base coat.
This high-build exterior masonry coating can be applied directly to concrete and masonry substrates. In addition, it's mildew resistant and highly resistant to alkali and efflorescence.
"The building owner had recently pressure-washed the façade and we brushed the surface with a coarse broom before applying Loxon," says Corey Wilkinson. "Loxon covered well and provided a great base to apply the colors."
For the topcoat, the brothers went with two premium Sherwin-Williams exterior paints.
"We've seen other muralists using Sherwin-Williams exterior paints and Casey had his home painted with their product," Corey says. "Having our own good experience and knowing the reputation among artists, we felt confident in using Sherwin-Williams for this project. Because we want this mural to last as long as possible, we weren't looking for bargain paints. We wanted paint that stands up well to the sun and is rich in color."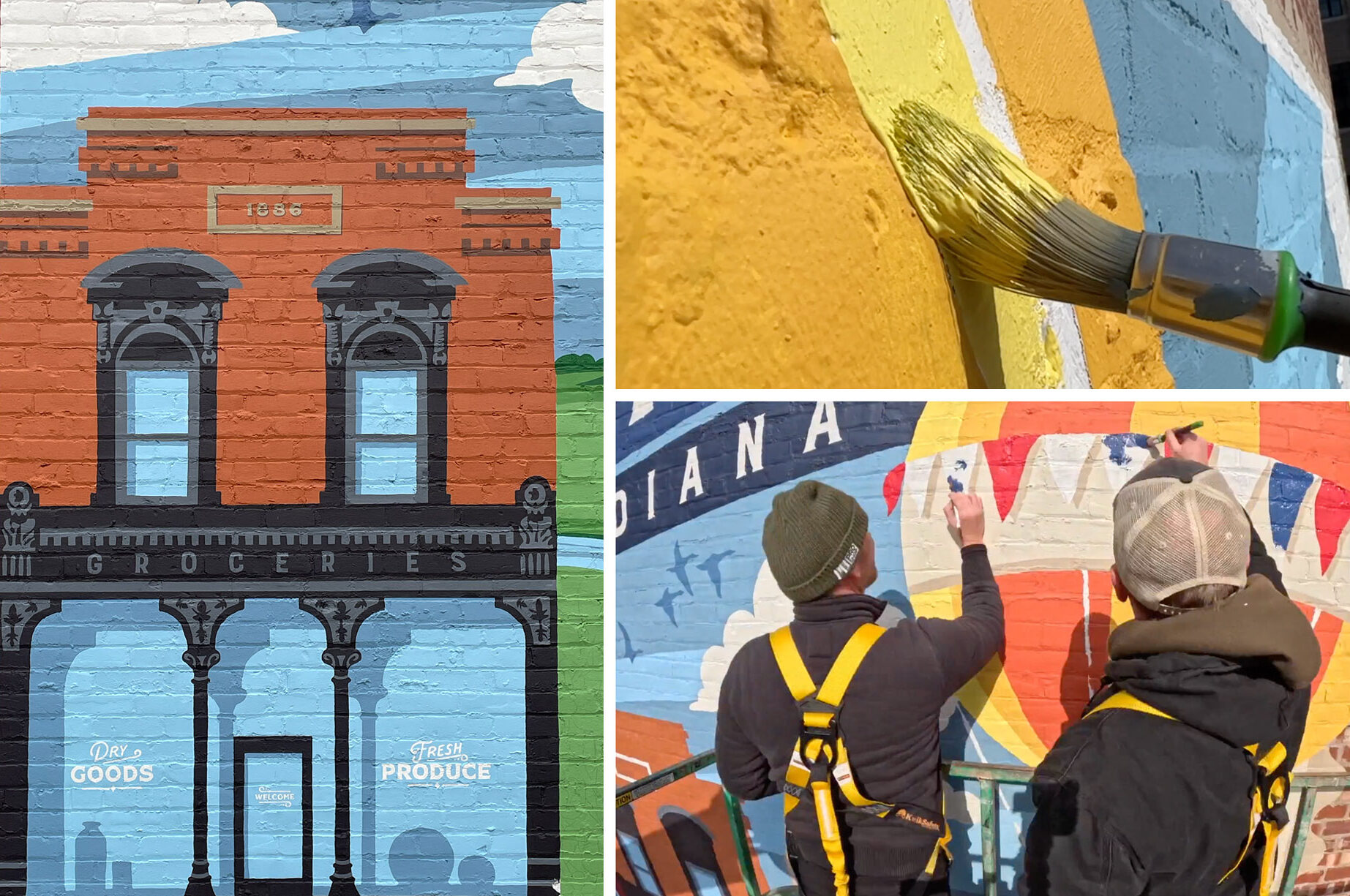 The coatings used for the mural topcoat were:
Emerald® Rain Refresh Exterior Acrylic Latex, formulated with Self-Cleaning Technology™ so dirt washes away upon contact with rain or water for a clean, fresh look with minimal maintenance. This coating also offers excellent UV and weather protection.
Latitude™ Exterior Acrylic Latex, formulated with ClimateFlex Technology™ that resists early moisture in as little as 30 minutes – twice as fast as most exterior coatings.
"The mural will be next to a construction project for a year and, when finished, it will be near an outdoor plaza with a lot of foot traffic," Corey says. "For much of the lower areas, we thought the Rain Refresh would be beneficial for areas that may be hosed off from time to time. While working in April in Indiana, temperatures ranged from the 30s to 80s (Fahrenheit), so the Latitude product helped us paint with ease in the cooler mornings and evenings as well as the hot midday temps."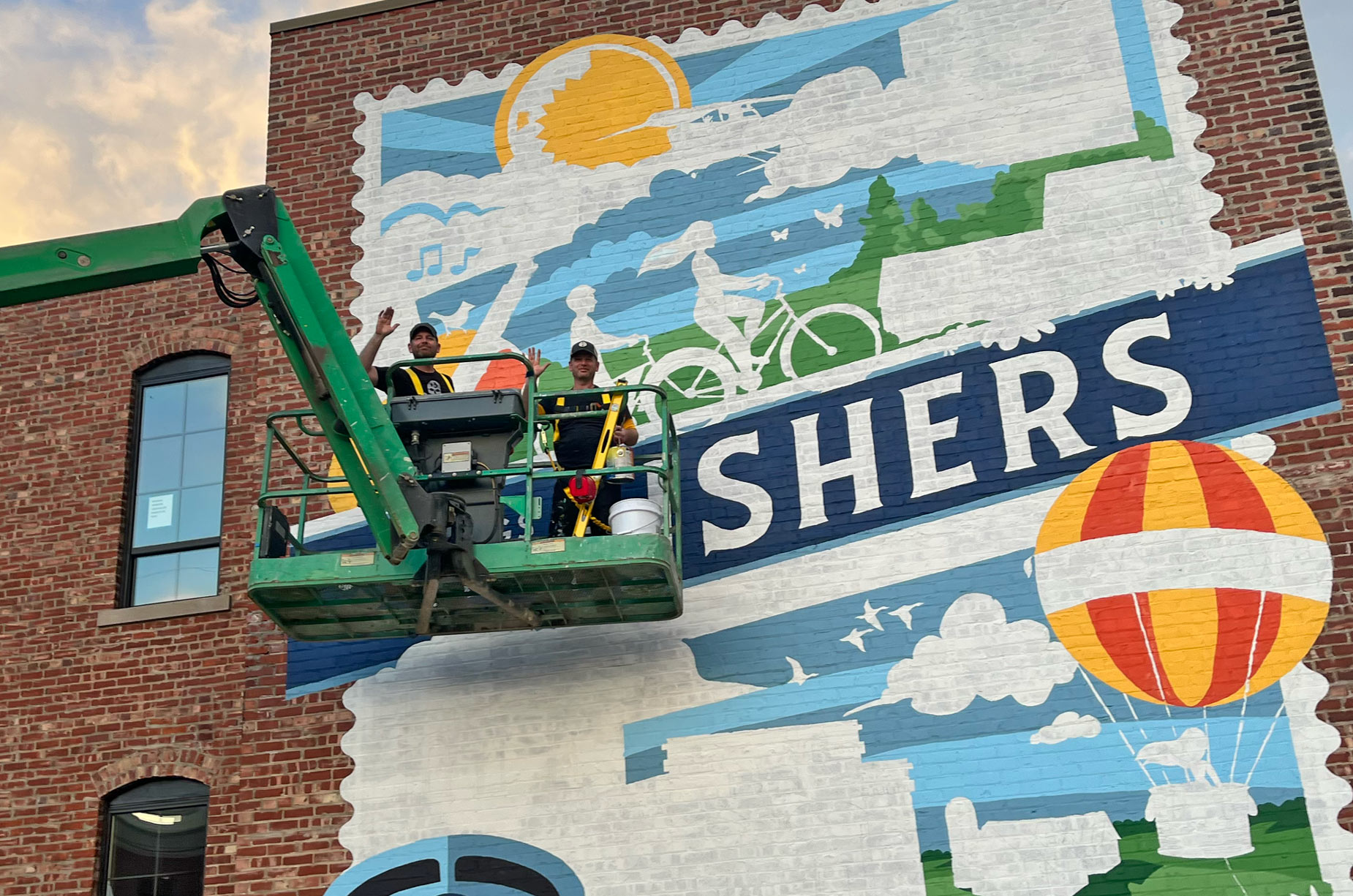 The brothers selected colors using the paint chips at the Fishers Sherwin-Williams store.
"One thing we're thankful for is having the team at the Sherwin-Williams paint store in our corner," Corey says. "They advised and supported us the whole way when we had questions or needed to lean on their expertise. Once, when we were in a time crunch, an employee ran over a quart of paint to the mural site!"
This article was published in the Fall 2023 issue of PPC magazine. ©2023 Randall Reilly. Story by Mike Starling, PPC Editor. Photography courtesy Wilkinson Brothers. Read about other high-profile paint projects in the PPC magazine archive.