Partners Chuck Schwiesow and Bruce Ash of Porta-Painting, Inc. were the first painting contractors featured in the premiere issue of PPC magazine in 1991. We are pleased to revisit Porta-Painting, now headed up by Chuck's daughter, Amanda Martin. This is the first installment in our new PPC series Where Are They Now?

Beginnings
When they were kids, you would find Amanda Martin and her two younger sisters playing at their father's industrial painting shop most weekends. Back then, playing meant running, jumping, crawling and climbing on everything in the shop.
"The shop was originally a foundry so it was not the cleanest of places. We'd get dirt in our hair, in our ears, under our fingernails and embedded in our clothes and shoes," recalls Martin. "But, it was fun and we got to spend time with our dad. I certainly never imagined that someday I would take over the reins of the business."
That outcome seemed even more unlikely after she graduated with a degree in business from the University of Wisconsin-Madison and forged successful careers in banking management with US Bank and retail with The Buckle, Inc. However, over time she became restless.
"I have no regrets about working in a large corporate environment," she said. "I learned a lot and gained valuable business experience. For me though, it just wasn't rewarding or fulfilling and frankly, it was draining. Plus, I remembered my dad always saying that working for yourself is like nothing else. So around 2010, when he started talking about retiring and selling the business, we started kicking around the idea of me being a possible successor."
Together, they decided that the best approach would be for her to join the company as a Project Manager for a one-year trial run to learn the business and determine her interest level in the industry and the day-to-day operations. It didn't take long for Martin to realize that she was re-energized, highly motivated and saw growth opportunities for the company and decided to go all in.
As far as needing to overcome any special challenges that may come along with being a woman at the helm of an industrial/ commercial painting company, Martin dismisses any such notions.
"Honestly, it's never been an issue," says Martin. "Customers respect honesty, integrity, a strong work ethic, a solid knowledge base and a desire to exceed expectations. If you deliver on those core values and earn their trust, gender is a non-issue."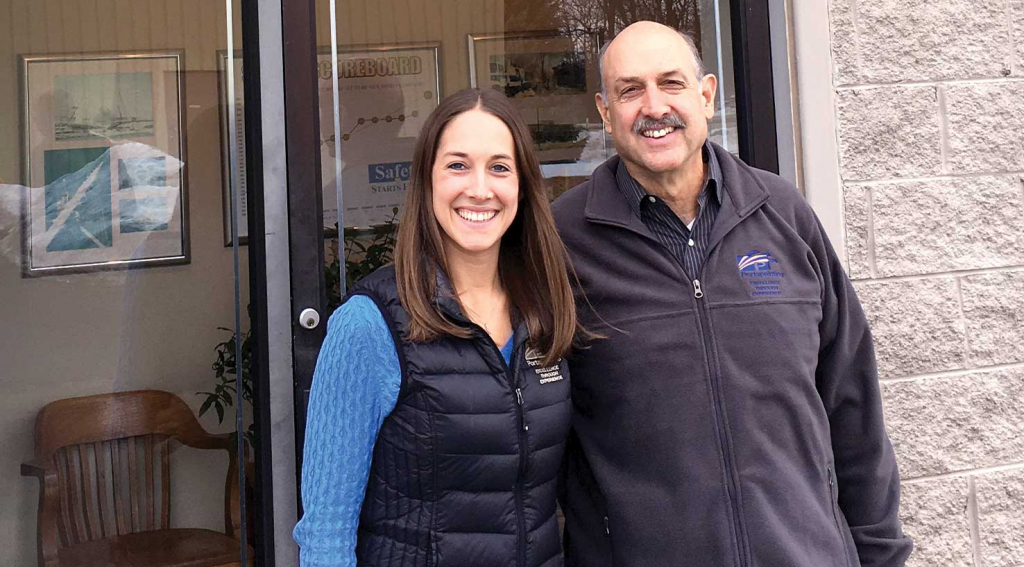 Amanda Martin followed in her father Chuck Schwiesow's footsteps and is now president of Porta-Painting Inc. in Waukesha, Wisconsin. Porta-Painting is now a WBENC Certified Women Owned Business.
Choosing the right niche
Martin is the first one to acknowledge that much of Porta-Painting's success is attributable to the mom and son duo of Maria and Brandon Sowinski.
Maria has been with the company for more than 35 years and serves as general manager, and perhaps best personifies the company tagline of "Excellence Through Experience." She possesses an immeasurable amount of knowledge and experience that helps her run key internal operations like tracking costs, working with suppliers, invoicing and P&L analysis.
"Technology has dramatically increased the speed and agility of how we function today," says Sowinski. "Early on, we used to prepare one bid per week, type up a proposal and drive it over to the customer. We did all the "take-offs" (measurements) with a tape measurer, a clip board and a pencil. Now, we sometimes do multiple computer-generated bids a day.
"Back then, we also didn't have the analytical tools to get a clear picture of which jobs were winners or losers – and why. Implementing precise cost analysis actually drove our current market segmentation strategy of focusing on five distinct areas: New Industrial; Remodel Industrial; New Commercial; Remodel Commercial and Equipment. This has really helped us dial in our resources and service capabilities to satisfy market specific customer needs."
As a seasoned project manager and high-volume generator, Brandon Sowinski explains that Porta-Painting is selective about the customers they choose to work with.
"We seek high value customers that appreciate what we provide. Namely, quality, speed, efficiency, productivity, reliability and safety on the job," he says. "We don't bid against fifty other contractors who compete mainly on price. That's not who we are, or what we do. There are even instances where we may be the only contractor that's been asked to bid on a job because of our unique qualifications and reputation. Being viewed as an expert consultant is right in our sweet spot."
Proof of that philosophy is evidenced in the company's unwavering commitment to training and safety, which is a key benefit of partnering with their local Union organizations.
"We push training and safety to our guys, some voluntary and some mandatory," says Brandon. "Whether it's blast classes, safety classes, enrolling in OSHA lead classes, or pursuing AMPP (formerly NACE/SSPC) certifications, our guys truly want to get better, learn more and expand their knowledge base. They know that the more tools they have in their toolbox, the better chance they'll have to work throughout the entire year."
This slideshow requires JavaScript.
Porta-Painting's résumé includes large commercial and industrial jobs like McCarty Park and the Calatrava addition to the Milwaukee Art Museum.
Solutions provider
Typically, industrial/ commercial painting contractors are given a request for proposal with the specs already designated. Not so with many Porta-Painting customers.
"If I had to put a number on it, I would say that we work off of furnished specs only 5 percent of the time," says Martin. "The rest of the time, we are asked to recommend the best products and process for the job. Interestingly, we are often called in after the customer has tried to do the work themselves, or used a different contractor without success. That's where our experience and expertise as a solutions provider shines."
"In addition to providing product and application solutions, we also are usually operating in really tight operating windows," adds Brandon. "A warehouse or a food plant can't just turn off the equipment and shut down for a week, so we have to figure out how to minimize disruptions to their operation while still delivering a quality result – on time.
Enduring partnership
Porta-Painting has been buying Sherwin-Williams coatings for the past 43 years and continues to rely on them as a key supplier partner.
"The longevity of our business relationship is testament to their dedication to this industry and understanding the needs of painting contractors," says Martin. "Just as we strive to be solutions providers to our customers, Sherwin-Williams is a solutions provider to us.
"For example, we had a customer in Texas that needed a local contractor referral and long-distance color matching. Because Sherwin-Williams has a national footprint, they were able to solve both needs. Whether it's two gallons or 200 gallons of paint, you will always receive the same superior level of service."
After exceeding their revenue goal last year, Martin is excited about the direction of the company, but believes in measured, manageable growth.
"We will grow at a pace that makes sense for us and doesn't compromise our values," she says. "For us that means sustainable organic growth that will ensure we always stay true to who we are and what we do."
This article was originally published in the Spring 2022 issue of PPC magazine. Story by Pete Sobic, PPC publisher. Contractor photography by Troy Freund. Read more about what pro painters have discovered on the job in the PPC magazine archive.