In this article, we'll go over the top three social media platforms for paint pros, and the best ways to use them.

Why get social?
Social media is the new word of mouth. When customers seek your services, they are going to start their research online.
For the generations that spend a lot of time online, if you don't exist in the digital space, you might as well not exist at all.
Well-maintained social media pages will help you meet customers where they are already spending time. They're a low- cost way to build brand awareness and brand loyalty through sales and event promotion, customer service options and targeted advertising opportunities.
Add it all up and social media for business is no longer just a best practice, it's a must-have. But which platforms are the most effective? The marketing experts at Sherwin-Williams have identified the top three for professional painting contractors.
Priority 1: Facebook
This is a staple for business marketing. Facebook is for any business that wants to connect with customers – it's that simple.
That's because Facebook continues to be the most widely used social platform, and your customers will expect to see you there.
SIGNIFICANT STAT: According to Facebook for Business, 66 percent of Facebook users visit a local business page at least once a week.
What to post on Facebook
Facebook is a good place for paint pros to build a community. Followers and page visitors will want to stay updated on:
Accurate location, hours and contact info
New products and services
Sales and promotions
Upcoming events
You can also use Facebook to promote sales and discounts, share your expertise and get leads.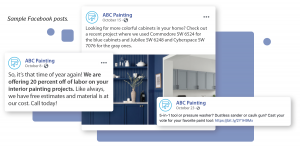 Priority 2: Instagram
Instagram is the most visual social media platform.
Use this platform if you want to capitalize on the visual nature of your work. Instagram is a great place to showcase your skills to potential customers.
SIGNIFICANT STAT: According to Facebook for Business, 83 percent of people use Instagram to discover new products and services.
What to post on Instagram
Instagram is the perfect platform to show off your personality.
Your Instagram followers want to see what you're all about – at a glance. So posts should show off your brand values and demonstrate your expertise.
Some content ideas:
Share team photos
Show work in progress  Highlight your most impressive finished work
Give behind-the-scenes looks
Priority 3: LinkedIn
This a place to connect with other professionals. Use this platform if you want to expand your network of professional contacts.
LinkedIn is a great place to get referrals and leads for commercial business. In fact, when asked to name the single most important social platform for their business, commercial marketers choose LinkedIn over Facebook, according to Social Media Examiner.
In a recent Social Media Marketing Society survey, 41 percent said LinkedIn was their most important social platform, followed by Facebook (31 percent), Twitter (19 percent) and YouTube (4 percent).
SIGNIFICANT STAT: According to LinkedIn Marketing Solutions, 82 percent of B2B marketers report finding the greatest success on LinkedIn.
What to post on LinkedIn
LinkedIn is a good place to expand your network. It's particularly good for commercial contractors since it lends itself to B2B interactions.
It's a professional environment, so your content should reflect that. Think about what resources you'd want to see from your fellow paint professionals, like industry news and how-to videos.
Some ideas for maximizing your LinkedIn presence:
Show important achievements
Share your core values
Promote industry events  Network with peers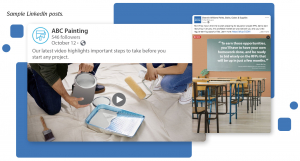 Other platforms
Once you've found your audience on one platform, think about expanding to others. These include YouTube, Twitter, TikTok, NextDoor, Google Business and Yelp for Business.
Some general tips:
"How to" is one of the top four content categories on YouTube. If you have something to teach the world, you have a great chance of connecting with some of YouTube's massive user base.
TikTok users love painting and industry business tips. So if you have knowledge you can share in a minute or two, you could find an audience here.
If you're looking to connect locally, try NextDoor. It's an app that helps neighbors find and recommend local businesses.
If you're looking to build your reputation, Yelp is a great way to stand out and showcase customer testimonials towards your business efforts.
Every day, millions of people search on Google and find businesses like yours. Make your business discoverable and turn those searches into customers by verifying your business and engaging with customers using Google for Business resources.
Make sure you are easy to find. Check that your business info is accurate across online listings like Google, Yelp and Angi.
As you dive deeper into social marketing, always keep this golden rule in mind: It's better to have one up-to- date, active social media account (usually Facebook or Instagram) than several neglected ones.
This article was originally published in the Summer 2022 issue of PPC magazine and is adapted from the Sherwin-Williams PRO+ Social Media Guide, Part 1: Getting Started, available in both English and Spanish. ©2Sherwin-Williams/Northbrook Publishing. Read more stories about running your painting business in the PPC magazine archive.